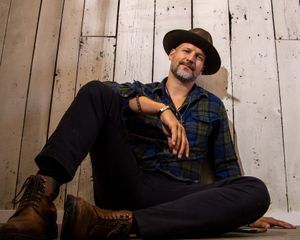 Doc Yates
Doctor by day...  Artist by night!


 
Doc  Yates was raised on a small farm in the outskirts of Woodstock Ontario, brought up on a road where three generations of the Yates family has been born and raised.  Doc is actually Dr. Seth Yates BSc. N.D. and is the owner of the Yates Naturopathic Clinic.
Though Doc came into music late in life, he quickly made the decision to play his music, his way. In a time where few artists write or play their own music, Doc strives to keep his lyrical writing real and authentic while letting his soulful voice drive the stories of love, life, and hardship into his listener's hearts.
He has now released almost 40 songs and has received play across the globe.  Doc was a finalist in the "Next Country Music Star" competition and he has also been invited to play very prominent Canadian country music festivals including Dauphin Countryfest and the Havelock Country Jamboree.
Doc's Band
brett cowan - drums
matt lytle - lead guitar
mark majeau - bass
trevor lubin - guitar/banjo/mando